Explore Feuilletons
The War of Faith and Love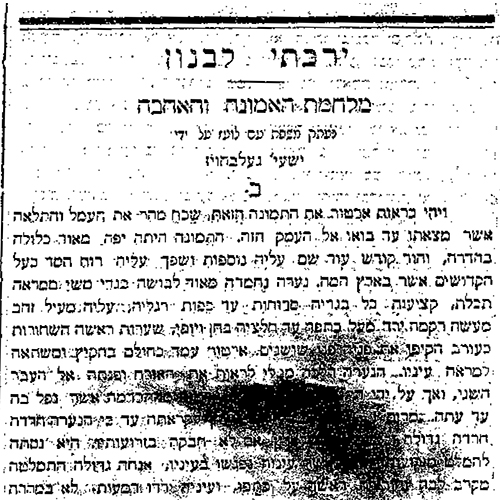 Abstract
"Faith and Love" is the second installment of a popular roman feuilleton that was translated into Hebrew from English-Jewish writer Grace Aguilar's novel "Vale of Cedars". Each week, readers of "Ha-levanon" ("Lebanon") could follow the latest adventures of the lovely Miriam as she struggled with her love for the British gentleman Arthur Stanley and sought to avoid the perils of the Spanish Inquisition. This text demonstrates the popularity of the roman feuilleton in Europe and across the Jewish world.

Title (English)
The War of Faith and Love
Title (transliterated)
Milchemet ha-emuna ve-ha-ahava
Place issued
Newspaper
Language
URI
Related Text
Keywords
roman feuilleton, translation, fiction, Vale of Cedars, persecution, antisemitism, intermarriage
Original Text
Translation
Grace Aguilar, Yeshay(ahu) Gelbhaus (translator), "The War of Faith and Love," 1874. Translated by Marina Mayorski
Chapter 2
When Arthur saw this vision, he quickly forgot the travails and hardships he had gone through before his arrival in this valley.
Read Full

The vision was very beautiful, perfect in its splendor, and a holy glory imbued it with graceful spirit as on the holy ones in the land.1 A lovely young woman was wearing a blue silk dress that reached her feet, all her garments fragrant with cassia2, a golden embroidered coat descending gracefully from her shoulders to her hips. Her hair, dark as a raven, surrounded her face, a face of roses. Arthur stood there, as though in a daydream, marveling at the sight before him. The girl turned to leave without seeing the guest […]3 only then was he roused from the drowse he had slipped into […] suddenly moving towards her and startling her such that she would have fallen to the ground had he not caught her in his arms. She attempted to flee his embrace […] when her eyes met his and a great sigh escaped from the bottom of her soul as she lowered her head to his shoulder and tears streamed down her face. It took a long time before the lovers separated from each other. Arthur reminded Miriam of those early days, how he had mended his ways to seek her love, and how happy he had been when Miriam confessed with her own lips that she loved him. He bemoaned the cruel fate that had kept them apart for so long. Miriam listened but did not reply, either good or evil4, and Arthur said:

"At this very moment, I shall surely remember those last words that I heard from your lips before I left, words that were a riddle to me, and I remember the effect they had on me: lest my heart be sound and secure in your love for me, for it would be a crime for you to love me."

"My words were truthful," Miriam replied, "in the gale of my emotions I had forgotten that we are both ripe for stumbling if we continue down the path of this love."5

Hearing these words, Arthur implored Miriam to elucidate their meaning, for they were as cryptic as a sealed book to him.6 When they last had spoken, fifteen months earlier, the king had ordered Arthur to hurry and join the army gathering under his flag in preparation for battle with the enemy, and Arthur had hastened to carry out the king's command and had departed with Spain's legions to the clash of arms.7 Upon his return from the battlefield, Miriam had disappeared, and Arthur did not know what had happened to her. Don Alberto, in whose home Miriam had stayed for a long time, said that she had returned to her father's home, but he was not inclined to disclose its location. All of Arthur's efforts to find it had been in vain8, and he did not understand what was this and for what was this.9 Why was he prevented from inquiring about her father's whereabouts, to request and plead with him for his daughter's hand in marriage?

Arthur's heart groaned as he beseeched Miriam to explain her words, his voice hewing flames of fire.10 But Miriam begged him to leave her at once and forget that forsaken valley,11 for her life and the life of her father were in danger if anyone found out about this place.12

"A secret is concealed here," Arthur thought. Miriam's tumult would not abate until Arthur swore that he would never divulge where his legs had taken him that night. But what was the awful thing that could not see the light of day? Why did Miriam consider it to be such a terrible sin to love him? Time and again he pled with her to tell him, but she was steadfast in her refusal.13 His soul was faint,14 his ideas dwindled, and doubt pestered him.

"Were you betrothed to another man?" he asked woefully.

"That's not the case, Arthur. I will not wed another, nor is there a man that would ask that of me. Oh, my heart, my heart!"

"Then why would you consider your pure love to be a sin? Why would you send me away if no man stands between us?"

"Though no 'man' stands between us, God will still forbid our love. My father's curse will stand between us. Tempt me no more, leave me to my cruel fate, entreat me no more with your amicable words that puncture the deepest chambers of my heart like the stab of a sword.15 Oh, woe, why? Why have you loved me?"

But Arthur did not acquiesce to her pleas and urged her to disclose the secret concealed within her, because he thought he would be able to remove any obstacles if he could only see them. Miriam listened a bit more and then turned her face from him. Suddenly she saw that his knees had buckled and his face had paled.

"So be it," Miriam exclaimed, "I will show you the great wall that stands between me and you. I withheld this not because I feared you would tell anyone of our whereabouts, that never entered my mind, but because I feared your disdain and abhorrence."

"Disdain and abhorrence? Are you mad?"

"If you do not believe me, listen and you shall see" – her face turned sickly green as she spoke,16 but her being advanced with valor,17 and she vehemently cried out: "I am a daughter of Judah!"

Once Miriam's lips uttered the words, Arthur retreated. He let go of her hand, which had been tightly enclosed in his, and his face displayed signs of scorn and love mingled together as his whole body swayed as the reed sways in water.18

"Now you surely know everything, and now it is needless to say,19 go, leave me once again," Miriam added, "forgive me for having deceived you thus far and forget me from now on, remember what I am, and you will soon cease loving me."

"Never, never!" Arthur cried out, and, unwittingly, he kneeled before Miriam: "Go forth with me to my land, to my birthplace, there no one will know who you are and where you came from.20 For what matters your race and the rock from which you were hewn to me,21 my soul is bound in yours and I will never stop loving you for as long as I live, go forth with me. King Edward sent for me once again, he promised to return me to my bedrock and my estate and I have not heeded, but for you, Miriam, I will forget all the anguish he caused me and will accede to his burdensome yoke.22 Be mine, and we will spend our days on earth in bliss."

"And what will become of my father?" – the girl asked woefully – "will you be willing to take him under your wing as well and be a son to him?"

Arthur looked away, moaned and remained silent.

"Surely, this you cannot do? I knew as much. I am grateful for your sublime love. I cannot be a wife to you."

"And yet you carry love's name on your lips?" Arthur replied and rose like a lion wounded by an arrow23, realizing that his hope has been dashed.24 "I would be willing to leave Spain for you, leave the generous king who has bestowed kindness on me; willing to go and work under oppression,25 all just for you, to find a home for you. I would not heed all the judgments of the world; I wish to mingle the pure blood of Stanley with the muddied fountain that gushes in your veins;26 I would forget your family name, your people, but not you. But how do you repay me? You reject me out of hand, send me away, and yet your lips speak of 'love.' Lies are coming from your mouth, your soul yearns for another!"

"Indeed, your words are honest and your judgment is just,27 you reminded me of what I have almost forgotten in my turmoil, that there exists a love that is even more powerful than the love I have for you. I may forget everything, but I cannot forget my God, the God of my forefathers!"

These words sunk to the bottom chambers of Arthur's heart28 and robbed him of his hopes and dreams. Confused, he paced back and forth, and calm was beyond him. The terrible, sudden disaster had caught him off-guard. When he had taken leave of Miriam fifteen months earlier, he had been willing to give his life for her. Since that day, Miriam's only prayer was that he would forget her and that she and her memory would vanish from his heart. But, to her great dismay, this was not to be. She believed herself to be strong enough to combat love, but in one glance Arthur had rekindled it, in one word he exposed her frailty.

"I will do as you say," said Stanley, "and leave you now but not forever. If you truly and wholeheartedly love me, time will not change your love. One day you will be lonely and alone in the world, as a shrub in the desert,29 and I will be your protector and you will be mine, despite your tribe and your people.

"Do not hope for this, Arthur, it is better if you hate me as your people hates mine. I can hardly bear your pleasant words, I cannot hold them.30

The girl's voice faded but her lips motioned inaudibly as she fell into the British man's arms, and tears streamed down her cheeks like a current of mighty gushing waters,31 but she soon came to her senses and eluded Arthur's loving embrace.

"But this is folly," Miriam cried out, "folly and absurdity! Do not go there!" – she added, when she noticed that he planned to go towards the hill – "there is a better way, follow me. I hope you will not betray what you've seen here?"

"Nothing!" Arthur replied.

Miriam went first and he followed her on a desolate path, until they came to a tall stone wall, where Miriam lifted tangled brushwood and a door opened, revealing a shaft with a staircase. Now, too, Miriam went ahead of him as dim light shone on the crooked slope from the cliff's grottos and the rock's crevices. And once again a staggering wall stood before them. Another door opened by itself and closed behind them once they passed through it. With immense efforts they made their way between thorny bushes that sprawled like a fence before any watchful eye, and suddenly Miriam rose and stood up. Stanley looked around with horror as he saw an endless plain spread out as far as the eye can see. The plain was brimming with white rocks, strewn all over in disarray. The stone wall that had opened for them just moments ago had vanished from sight. Arthur looked back, in vain, to see where he came from.

"This road is dreadful, but it is not as bad as it seems. Turn right, and that path will lead you safely to a guesthouse. Tomorrow when the sun rises you will see a small town on the border and from there you will be on your way. The night is swiftly covering the sun with a shroud of darkness, so you must not linger here, Arthur."

And yet Arthur did not budge, until Miriam confessed her heartfelt love for him once again and swore that she would never give her affection to another. And so they parted. Shortly thereafter, no human form could be seen on the plain.

(to be continued)
Linked Resources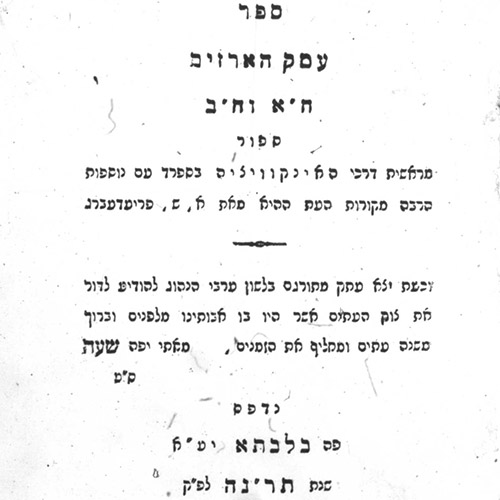 The Valley of Cedars
Related Text
Text