Conference, October 2018
The Feuilleton & Modern Jewish Cultures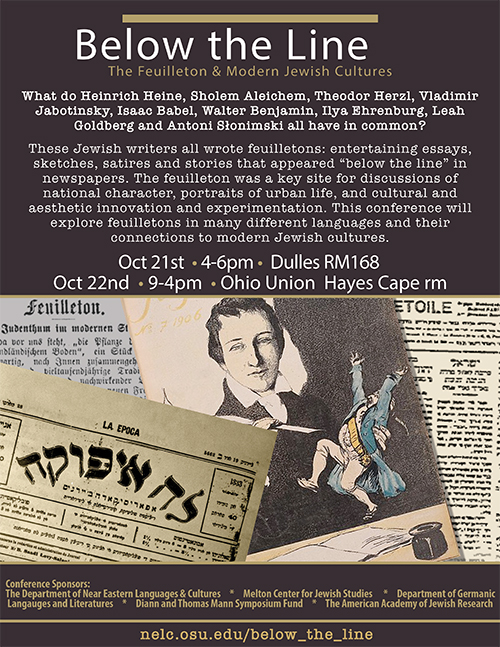 Location: Ohio State University
Date: October 21-22, 2018
Organizers: Naomi Brenner, Matthew Handelman, and Shachar Pinsker
Sponsors: The Department of Near Eastern Languages & Cultures, Melton Center for Jewish Studies, Department of Germanic Langauges and Literatures, Diann and Thomas Mann Symposium Fund, and The American Academy of Jewish Research
What do Heinrich Heine, Sholem Aleichem, Theodor Herzl, Vladimir Jabotinsky, Isaac Babel, Walter Benjamin, Ilya Ehrenburg, Leah Goldberg and Antoni Słonimski all have in common?
These Jewish writers all wrote feuilletons: entertaining essays, sketches, satires and stories that appeared "below the line" in newspapers. The feuilleton was a key site for discussions of national character, portraits of urban life, and cultural and aesthetic innovation and experimentation. This conference will explore feuilletons in many different languages and their connections to modern Jewish cultures.
Sunday, October 21
4:00pm – Welcome - Tamar Rudavsky
Roundtable Discussion | How to Write a Feuilleton...
Discussant: Shachar Pinsker
Discussant: Naomi Brenner
Discussant: Matthew Handelman
Chair: Paul Reitter
Monday, October 22
9:00 am | Panel 1: Roman-Feuilletons
Panelist: Olga Borovaya, "'I am a Jew, and my Law requires that I pay good for evil': The Ladino Feuilleton as a Tool of Jewish Education and the Evolution of Its Message"
Panelist: Lital Levy, "Shlomo Twena's Magid Mesharim and Magid Mishneh: A Judeo-Arabic Roman Feuilleton"
Chair: Daniel Frank
10:15 am | Panel 2: Feuilleton Politics: Violence & Race
Panelist: Brian Horowitz, "Feuilletons–Mirror of an Unhinged Mind: Lev Levanda's Reaction to the Pogroms of 1881-82"
Panelist: Eli Rosenblatt, "The Jewish Feuilleton in South Africa, 1890-1914"
Chair: Robin Judd
11:30 am | Panel 3: Language, Speech and the Feuilleton
Panelist: Roni Henig, "Multilingual Revival in a Hebrew Feuilleton"
Panelist: Jordan Finkin, "H. D. Nomberg and the Voluble Yiddish Feuilleton"
Chair: Shachar Pinsker
1:30 pm | Panel 4: Modern and Modernist Feuilletons
Panelist: Martina Steer, "Women and the Feuilleton: Gender, Judaism and the Emergence of Jewish Women's Studies"
Panelist: Laura Wiseman, "Agnon's Feuilleton: Literary Mediation and the Communication of Cultural Values"
Panelist: Matthew Johnson, "Within the Limits of Criticism: Shloyme Bikl and the German-Yiddish Feuilleton"
Chair: Matthew Handelman
3:15 pm | Reflections