Explore Feuilletons
They Let Me into the Saxon Garden!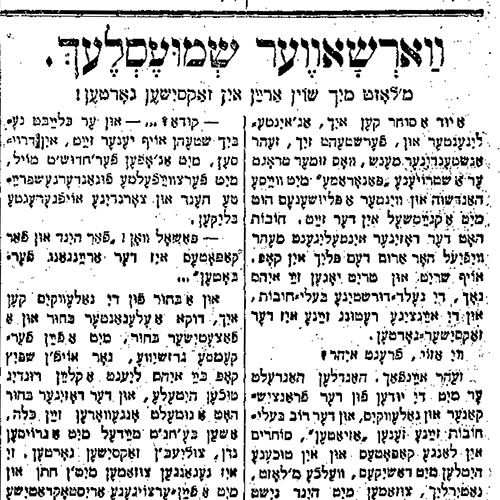 Abstract
In this feuilleton, Moshe Bunem Yustman, better known by his pseudonym "Yeushzon," criticizes the discrimination against Jews in traditional dress, who were banned from entering a lavish public park in Warsaw that abutted a Jewish neighborhood. Given the constraints of czarist censorship, the feuilleton focuses on how this ban corrupts the Jewish community and erodes Jewish solidarity. At the same time, this feuilleton makes a strong political statement as it spotlights both a local Warsaw concern and the discrimination against the Jews in the Russian Empire more generally.
Title (English)
They Let Me into the Saxon Garden!
Title (original)
מ׳לאזט מיך שוין אריין אין זאקסישען גארטען
Title (transliterated)
M'lozt mikh shoyn arayn in zakshisn gortn
Place issued
Author
Newspaper
Language
Keywords
antisemitism, Jewish tradition, non-Jews, Beilis affair, Poland, Warsaw
Original Text
Translation
Moshe Bunem Yustman, "They Let Me into the Saxon Garden!," 1911. Translated by Daniel Kennedy
I know a man, a cultivated Jewish merchant, who in summer wears a straw panorama hat and white gloves, and in winter a plush hat with a crease on the side. He had more debts, that man, than hairs around his bald pate. At every step they hunt him, those money-hungry debt-collectors, and his only escape is the Saxon Garden.
How, you ask?
Read Full

It's quite simple. Most of his dealings are with Jews from Franciszkańska and Nalewki streets; and the majority of his creditors are merchants in long kaftans and with fabric hats with visors, who are naturally forbidden—alongside dogs—from entering the Saxon Garden; and whenever one of those creditors catches up to him on the street—shouting: "Bandit! Stop! Where's my money!"—he argues with him, bargains with him and drags him so far along the street until he reaches one of the Saxon Garden's seven gates at which point our cultivated merchant strides nimbly forward and saunters right inside. Then when the kaftan-wearing Jew runs after him: "Bandit! Stop! Where's my money!" his path is blocked by a gendarme:

"Kuda? Where do you think you're going?" and the poor fellow is left standing on the other side with a gaping mouth, arms outspread in bewilderment, and a furious glare in his eyes.

"Pashol von!—Entrance is forbidden for dogs and for kaftans!"

And I know a fellow from Nalewki Street, by all accounts an elegantly-dressed dandy, with finely styled hair, but on the top of his head he wears a small round cloth yarmulke, and this same fellow lost his finacée—a charming, pretty girl with a large dowry—all on account of the Saxon Garden. They were walking together, accompanied by a well-brought up aristocratic friend of the fiancée's, and approaching the garden gate on Żabia Street the friancée unthinkingly, unexpectedly, turned and stepped into the garden with her friend. But when her red-faced fiancé tried to do the same, his path was naturally blocked by a gendarme, and in response to the astonished gaze of his fiancée and her friend he pointed to the brass plaque with the words "Entrance forbidden to dogs and kaftans" . . .

The friend smiled and the would-be bride shot an ironic look in the direction of her groom-to-be, who at that moment was frozen in a strangely foolish pose with his gaze lowered. Upon returning to her apartment the charming, graceful girl buried her head in her pillow and wept. Then, when she awoke the next morning she made up her mind and traveled back to her home. The engagement was off . . .

And so many, many sad occurrences of this kind happen every day; no poet has been born who could give voice to the lamentations of our Warsaw Kaftan-wearers, with all their sorrow and rage, pain and woe! . . .

But just picture the scene: All of a sudden, one gloomy fall morning, when everything around smelled of mud and rot, the trees stood naked, plucked bare, and the orphaned branches splashed murky, dirty drops in your face, there suddenly appeared a "manifesto": Come kaftan-wearers and rejoice! The gates to the garden now stand open for you!

I don't know how you took the news, or what kind of impression it made on you. It's possible you would have been more excited if they had announced that the gates of the Pale of Settlement had been opened. But for us—the "long kaftans," for whom they established a pale within the Pale, a circle within a circle, that dreary day shone like the day the constitution was given, the muddy streets of Warsaw were suddenly imbued in our eyes with such charm, our hearts were filled with joy, and in our minds eye the dark winter days gave way to summer evenings on tree-lined promenades, twittering birds, snuggling young lovers, and the sound of silver bells resonating in our ears . . . Oh, God, what a beautiful world You have created! Seven gates had been opened up before me. Come, Kaftan-wearer, and partake of God's world! . . .

Is it possible? Would it really happen?

Warsaw is where my cradle stood, and I have passed some twenty odd springs and twenty odd winters in this city where "Postęp"1 blossoms and buds—of Łazienki Park I have only heard second-hand impressions, like a greeting from a far-off, distant land, and I have never set foot in the Saxon Garden, only seen the tips of the treetops poking out over the railings on Żabia Street every time I pass. And everytime I walk by I think: If it is true that in hell there is a glass wall, through which paradise can be seen, so that the damned may suffer the agony of watching the righteous enjoy themselves—it can be no worse than for a young man in a kaftan to stand, on a sweltering summer evening, on Żabia Street by the iron railings of the garden . . .

And then one morning the "manifesto" appeared, what's done is done! I won't hold a grudge.

They're letting me into the Saxon Garden!

Yes.

But the following morning a minor amendment had been added to the manifesto. Namely: only in winter. The gates of the garden were only open to us during the winter months . . .

In winter? . . . But what does it matter?

There's a sketch by Spektor about an infirm eccentric whose body is bent right down to the ground. By day he lies, hidden away in some basement far from the daylight. He is somehow afraid of people, afraid that he will get in their way with his freakish body. But come nightfall, when the streets become empty and deathly still, he emerges and walks freely through the streets, breathing in the abundant air and sating his thirst for God's glorious earth . . .

They've opened the gates to me.

A leaden sky hangs overhead, and a marshy ground lies under my feet. Occasionally someone, a coat draped around them, enters through one gate and rushes down the path all the way through to the gate on the other side. The garden paths—brightly illuminated in electric lamplight—are empty now and deathly quiet. Those who had crowded these pathways during the summer months, now sit in their warm rooms next to boiling samovars, or sit in the theater . . .

And now, on a gloomy winter's evening, I sit on one of those empty benches and gaze with wonder at this beautiful garden, at the piles of golden-black leaves and relish the fine languid drizzle, delighting in the trees and the wicked howling wind, enjoying the cold drops and the withering leaves which the groaning, swaying trees fling into my face. How happy I am, how good it feels to be here!

They've let me into the Saxon Garden!